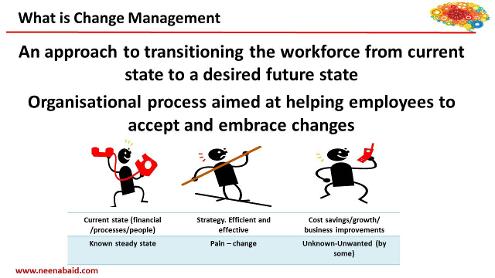 STOP LOOK - If you would like to test your current change management skills, go to the Test Yourself tab at the top of the screen and follow the instructions... good luck.
Change Management Training
Introduction to Change (Employees) 1/2 day modularised
What is change, why is it happening, how does it affect me, how will I benefit from change, how can I work with my organisation to assist change, what can I expect from management, what does management expect from me, how do we agree to work together. Action plan setting.
Leading through Change - Managers/Change Agents 1/2 day to 1 day modularised
What is change management, organisational need for change, managers roles during change, change readiness, employee change reactions, change process, effective communication, resistance to change, alignment during change, change relationships, empowering groups to change and agreeing on process during change.
Change Manager - Aligned to Project Team
Work with HR, Project Team, Leadership Team and Senior/Management to establish dynamics of change project, organisational need to change and assessment of change readiness. Design and deliver change plan establishing priorities of project implementation, engage support and aligment (INT/EXT, stakeholders) and communications plan with recommendations based on overall assessment, Use of ADKAR, Prosci, Weisbord or other organisational chosen or proven model to assess, implement and manage change.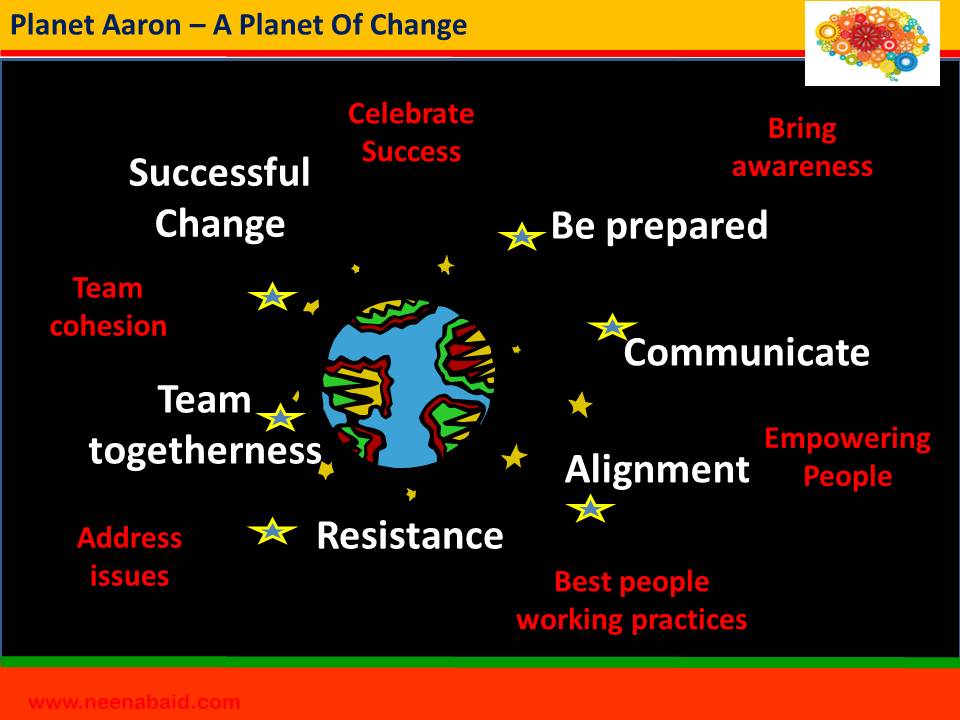 Planet Aaron - The Planet of Change - Facilitated Workshop - 2 Days
This workshop is aimed at empowering your employees to renew, accept, participate, support and communicate through change. Your employees will together conduct a series of change management activites based on 'what actually happens' in the workplace during the change process. What the workshop covers: Being prepared for change, communicating effectively, alignment within business practices, resistance and how to manage it, team togetherness, awareness of stakeholders, empowering people, draw out issues and write up solutions, ensure successful change and how to celebrate it.
Planet Aaron - Stakeholder Cohesion - Facilitated Workshop - 1 day
This workshop is aimed at establishing good working practices and relationships with your stakeholders. Your employees will explore how to manage stakeholder relationships during change and assess how each aspect will benefit both sides to achieve results. What the workshop covers: Establish and categorise stakeholders against business needs and objectives, design a scoring process to prioritise stakeholders needs, log issues and concerns, create a support and management process of stakeholder relationships and setup an internal team/group to ensure a continuous process.
Individual Change Management Coaching - Managers/Key Project Leads
Individual coaching with managers and key project leads working on change projects. Establish how change will effect the people and processes, design a plan on how to manage the change, project teams and organisation.